Home
Inúu admission + Geothermal tratment 90'
Inúu admission + Geothermal tratment 90'
Come to Inúu and relax with the geothermal treatment of 90 minutes, tranquility and disconnection with who you want. Let your body and your senses relax with the 90-minute massage that we offer.
Services included:
4h admission to Inúu, the Adults Only spa of Caldea, for people over 16 years old with free access to the inner, outer lagoon, saunas, hydromassage showers, the Berlingot space with bubble beds, etc. The entrance also includes free access to the Termoludic: inland, outer, hydromassage, jacuzzis, indo-Roman baths, Icelandic bath, hammam or Turkish bath, Sirocco bath, aquamassage space, saunas.
90-minute body geothermal treatment for which we use stones that come from ancient millennial sediments and which are polished by the effects of water and ice. These stones, both hot and cold, are used to perform pressure and thermal stimuli.
Material:
To come to Inúu you only need the swimsuit. We provide you with bathrobe and flip flops at your doorstep.
Conditions:
Entry valid every day of the week. Price per person.
Offer 100% refundable whenever the package is canceled with more than 72 hours in advance of the arrival of the first service to be consumed.
Included services
Inúu experience admission ticket, 5 hours
Admission ticket to Inúu, Origins and Thermoludic, where you can enjoy the new panoramic lagoon and the rest of the outdoor lagoons and jacuzzis, Indo-Roman baths, sauna and hammam.

We kindly ask you to be punctual at the time of entry to Caldea.






90-minute geothermal massage
This treatment is an innovative massage concept that balances the energies in our body with the energies of the natural world. We use stones from ancient mountain sediment areas that have been polished by water and gel. These stones are used both hot and cold to apply pressure and thermal stimuli to the chakras (energy reception, assimilation and transmission points), leading to a realignment of the body, mind and the spirit. This energy balancing and anti-stress massage is performed with firm hands, stones and a range of techniques: aromatherapy, music therapy and chromotherapy.

Benefits:
A pleasant and relaxing sensation.
Sedative effect on the nervous system.
Soothes muscle and joint pain.
Helps with anxiety, stress and insomnia.
Improves blood pressure.

Conditions:
Because we want you to enjoy the best experience, remember to show up 30 minutes before the time reserved for your treatment at our reception.
Dates of validity
From 02/01/2018 To 30/11/2020
Book in 2 minutes!
Inúu (+16 years *include Thermoludic)
You may also be interested
Come to Inúu and relax with the 60-minute Th...
Come to Inúu and relax with the 30-minute Sh...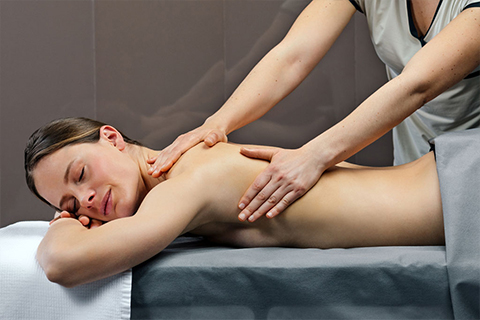 Admission to Inúu for 5 hours with a 30-minu...